GROSSINGER AUTO GROUP

 The Grossinger Auto Group compromising ten locations and eighteen franchises has been recognized among the top 100 in the country. The Grossinger Auto Group has grown from the single standing longest run family operated auto dealership in Illinois dating back to 1928 to one of the largest auto groups in the country.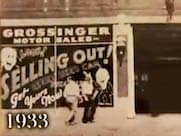 As the oldest and longest running in Illinois, their name has become synonymous with customer loyalty and satisfaction.  Employing over seven-hundred employees currently, they have continued to expand and prosper over the years because of their intent focus on employee and customer retention; always reaching to improve and to get to the next level of: customer service. Their mission statement which every employee is taught and imbedded throughout the on boarding process and their life as a Grossinger "family" member focuses on "striving every day to find a better way". 
Caroline and Gary Grossinger are co-presidents and dealer operators of the group.  Some of these achievements include:  the ranking in volume sold as #6 national Buick dealers in the country, #1 for ranking in volume sold in Buick and GMC in the state, #1 in volume sold for Kia in the state, #2 in volume sold for Toyota dealers in the state.  In addition, the dealerships ranking in volume for received multiple achievement awards such as Signature dealer for Toyota, Buick and GMC Dealer of the year, Mark of Excellence and Standard of Excellence, to name a few.
Caroline and Gary Grossinger operate all of the Grossinger dealerships. They represent the third generation of the oldest owned auto dealership in Illinois. Their grandfather, Sam Grossinger, immigrated from Europe andstarted the business in the early 1900s. Sam started out as a tailor in a sweatshop and then partnered in a parking garage. Next he sold tires. Finally, he became a "Hupmobile" auto dealer. By the time the "Hupmobile" fell by the wayside, General Motors had become familiar with Sam's business acumen and offered him newly manufactured franchise, Pontiac.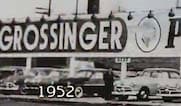 His sons Paul and Irwin both grew up at the dealership, which they nicknamed "TheGarage." As a result, theydeveloped a work ethic, mode of operating, and a temperature much like their father. While Paul's priority was selling cars and assisting his father, real estate began to intrigue him. He was allowed to pursue this passion when Irwin came on board to help manage the dealership full time. Their close relationship and mutual respect was always apparent. 
Business opportunities presented itself to allow the family to expand over the years to incorporate 18 franchises including:
Grossinger Toyota North in Lincolnwood
Grossinger Hyundai in Lincolnwood
Grossinger Hyundai in Palatine
Grossinger Chevrolet in Palatine
Grossinger City Cadillac in Chicago
Grossinger City Chevrolet in Chicago
Grossinger City Toyota in Chicago
Grossinger Motors of Bloomington Normal featuring Mercedes Benz, Audi, Volvo, Subaru, Lincoln and 
Since Irwin's passing in June of 2000, Gary Grossinger and Caroline Grossinger continued the Grossinger legacy with the same strength of character, same code of ethics and same mutual admiration and respect for one another as their family before them. Their love of the business and their commitment to customer service continues from generations before them. They will continue the tradition of the oldest family owned auto dealership in Illinois.